Wilke Elected to Lead Scarritt Bennett Center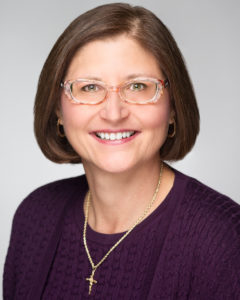 Nashville, TN – April 25, 2018 – Sarah Wilke, who has served as interim executive director of Scarritt Bennett Center since January 2017, has been elected by the center's board to serve on a permanent basis, effective immediately.
"The board is thrilled to drop 'interim' from Sarah's title because she has given us far more than anyone would expect from an interim appointment over the last 16 months," said Patricia Clark, president of the Scarritt Bennett Board of Directors. "In just a short amount of time, she has had an enormous impact on the Center's fiscal status, facility upkeep, staff efficiency and long-range planning. She's brought a new energy to the campus that has us all looking forward to new opportunities for mission and ministry."
Founded more a century ago as a college, Scarritt Bennett has served as a non-profit education, retreat, and conference center since 1988. The 10-acre campus, located in the heart of Nashville, is owned by United Methodist Women; its historic mission is dedicated to the empowerment of women, the eradication of racism, and spiritual enrichment.
"I came to Scarritt Bennett with a willingness to serve," Wilke said, "and that has since grown into a passion for all that the Center is and all that it can be. I am honored to lead an institution that's a magnet for people who want to make a difference in the world."
Wilke previously served from 2009 to 2016 as publisher and world editor of the Upper Room Ministries, a United Methodist global ministry based in Nashville that produces the popular daily devotional. Prior to that, she was the chief executive officer of UMR Communications, a Dallas-based ministry that published The United Methodist Reporter, an independent newspaper that reported denominational news.
Wilke also served for four years as the North Texas Annual Conference's urban strategist, an extended-cabinet-level position; she led inner-city efforts in Dallas to form new congregations, revitalize existing churches, and spearhead community-development projects.
She began her career in 1986, serving for 14 years as the executive director of Wesley-Rankin Community Center, a century-old mission of United Methodist Women. In 1997, she co-founded Project Transformation in Dallas, a college internship program that has grown to serve thousands of children at inner-city and suburban sites around the country.
In 2000, Wilke was named Community-Based Ministries Administrator of the Year by the United Methodist Association, for her work at Wesley-Rankin.
Wilke holds an executive MBA from the Cox School of Business at Southern Methodist University in Dallas. She also is a member of the executive board of SMU's Perkins School of Theology.
Wilke served in the U.S. Peace Corps from 1984 to 1986, helping Costa Rican women develop small cooperative businesses. While there she became fluent in Spanish. She earned a bachelor's degree in political science from the University of Kansas in 1984.