Wild With Words
By Joyce D. Sohl
Words fill up a page. Words fill up our minds and thoughts. Words fill up the airwaves. Words are everywhere! Words are, for most of us, our common creative medium. We use them to communicate with each other in conversation; we use words on paper and computers to send memo, letters, emails, etc; words are the basic medium of the essays, journal notes, novels, poetry, lyrics we may write. Words are often also used to communicate with God in prayer, in reading of the scriptures and in contemplative experiences.
"Wild with Words", a spiritual retreat will be held at Scarritt-Bennett Center, January 26, 4:30pm to January 29 at noon. It is designed to tap into our intuition and imagination and to hear the prompting of the Holy in our ordinary lives. It is for both experienced users of the written word and those who want to learn how to write as a spiritual discipline – for experienced and beginning writers alike. The content of this retreat will help us focus our attention, guide our pen or pencil, live in the present moment, and give us some delightful surprises.
The retreat leader is Rev. Dr. Martha Brunell, pastor in the United Church of Christ, spiritual director, retreat and workshop leader and writer. She has shared "Wild with Words" with many individuals over the last fifteen years. She joyfully listens as participants encounter their creativity and spirituality,
Other activities will include labyrinth walks, worship, contemplative music, visual meditation, fellowship and conversation. The cost for the retreat is $217 for commuters (includes 9 meals, taxes and tuition) and $397 for overnight guests (includes 3 nights, 9 meals, taxes and tuition).
You may register by calling 615-340-7557 or email programs@scarrittbennett.org. Further information is available at www.scarrittbennett.org/event/wild-with-words-retreat.
Get your registrations in and join us for fun, learning, spiritual enrichment, and sacred space in the midst of winter.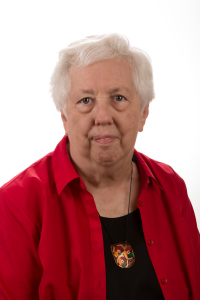 Joyce D. Sohl has been Laywoman-in-Residence since 2009 as a full-time volunteer. She retired as CEO of United Methodist Women in 2004. She is the author of 4 books, a teacher, retreat leader, writer and non-professional musician. Here at the Center her work is in the area of Spirituality & the Arts with such programs as Tuesdays in the Chapel, Vespers & All That Jazz, Poet's Corner, and quarterly retreats and art exhibits.