To a Place of Celebration
To a place of celebration filled with laughter, dancing, joy,
Came such violent devastation—one man's efforts to destroy.
God, we grieve for loved ones taken; we lament, "What can we do?"
Now, we're feeling lost and shaken; heal our nation! Make us new!
Weapons kill—and so does silence; hear our prayer as we confess:
We have given in to violence, we have bowed to hopelessness.
God, we've lost our sense of vision of a world where there will be
Plowshares made from violent weapons, justice in society.
Give our leaders strength for action, give them minds to mend our flaws,
Give them courage and compassion, and the will to change our laws.
May we work for legislation that will curb guns' awful toll.
God, renew our dedication to a world that's just and whole.
Give us love to change our vision; give us love to cast out fear.
Give us love to speak with wisdom— love to work for justice here.
Give us love to welcome difference—love no hatred can destroy.
Only love can stop the violence; only love will bring back joy.
Biblical References:  Isaiah 4:2; 1 John 4:18; James 3:1-12; Micah 6:8;
Matthew 25:35
Tune: Thomas John Williams, 1890.  Alternative Tune:  BEACH SPRING
Text: Copyright ©2016 by Carolyn Winfrey Gillette. All rights reserved.
Email: bcgillette@comcast.net   New Hymns:  www.carolynshymns.com
Permission is given for free use of this hymn for church services.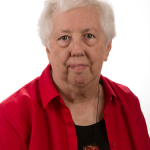 Joyce D. Sohl has been Laywoman-in-Residence since 2009 as a full-time volunteer. She retired as CEO of United Methodist Women in 2004. She is the author of 4 books, a teacher, retreat leader, writer and non-professional musician. Here at the Center her work is in the area of Spirituality & the Arts with such programs as Tuesdays in the Chapel, Vespers & All That Jazz, Poet's Corner, and quarterly retreats and art exhibits.