Thomas Merton: Mystic & Activist
Scarritt Bennett Center is offering a retreat, September 25 (dinner) through September 28 (lunch) featuring the writings, life story, correspondence and inspirational materials of Thomas Merton, mystic and activist.
Since the publication of his spiritual journey, The Seven Storey Mountain, Thomas Merton is widely read by both folks with a spiritual quest and with a desire to put their faith to work in the world. How can this scholarly, reclusive Trappist monk of the Abbey of Gethsemani, Kentucky, now dead almost 50 years, guide our quest to be faithful Christians, active in God's world today?
We will explore together some of his spiritual and secular issues, the methods he used to address them, and his correspondence with other activists including Dorothy Day. Time will be available for group activities and worship; individual reflection and contemplation; and sharing of our spiritual journeys.
Thomas Merton wrote:
Love is our true destiny. We do not find the meaning of life by ourselves alone – we find it with another.
             The biggest temptation is ….to settle for too little.
            Love is my true identity. Selflessness is my true self. Love is my true character. Love is my name
Toby Gould, retired United Methodist minister will lead this retreat. He has been a local pastor, mission study editor for annual mission studies of United Methodist Women, advocate for persons with handicapping conditions, and staff of the working group between the Roman Catholic Church and the World Council of Churches. His doctoral dissertation was on Thomas Merton. Toby lives in Charlemont, MA.
Cost of the  retreat: Commuter $245 includes all meals; Resident $325 includes all meals and 3 nights. Register on line at: here and visit our event page for Thomas Merton: Mystic & Activist.
Come and join in the search for our individual paths other as we experience the wisdom of Thomas Merton.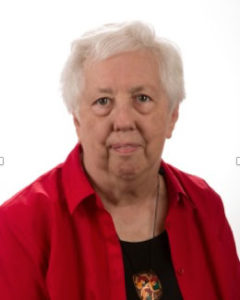 Joyce D. Sohl has been Laywoman-in-Residence since 2009 as a full-time volunteer. She retired as CEO of United Methodist Women in 2004. She is the author of 4 books, a teacher, retreat leader, writer and non-professional musician. Here at the Center her work is in the area of Spirituality & the Arts with such programs as Tuesdays in the Chapel, Vespers & All That Jazz, Poet's Corner, quarterly retreats, and art exhibits.