The Resurrected Jesus is With Us
By Joyce D. Sohl
Here we are in the midst of Holy Week. We have taken the Lenten Journey with time for renewal and  reconciliation with God and family/friends. Now it is the week of intense soul-searching; of retelling the story of the life and death of Jesus; of moving toward the joy of Easter morning.
And then comes Easter Sunday! A time of great joy, awe and wonder, and celebration of the risen Christ. At Vespers & All That Jazz service at 6:30 pm on Easter we will once again visit the empty tomb and experience the amazement, and even terror of not finding the body of Jesus. We will repeat over and over again "Christ is risen and lives with us!"
In the liturgical calendar of the Christian faith, Easter is just not one Sunday, but extends the next 50 days until Pentecost and is known as Eastertide. It is a time of hearing again the stories of the risen Christ as experienced by his disciples/followers. It is a period that invites wonder and joy as we too experience the risen Christ. It is a time of moving beyond the crucifixion and into the new creation that comes with the empty tomb. Eastertide is a celebration of the presence of God in our midst and requires each of us to sing "Alleluia" over and over again.
At the Vespers & All That Jazz services each Sunday at 6:30 pm during Eastertide we will once again open our hearts and souls to the presence of the living Christ in our lives. The theme and scripture related to each Sunday are:
April 5             Mark 16:1-8                                   "The Women were There!"
April 12           John 20:19-23                               "Peace"
April 19           Luke 24:44-49                               "Preaching Required"
April 26           Psalm 23; John 10:11-16             "Good Shepherd"
May 3              Acts 8:26-40                                  "Sharing the Story"
May 10            John 15:9-17                                  "The Best Friend"
May 17            Luke 24:44-53                               "You Are a Witness"
Christ is Risen!  He is risen indeed!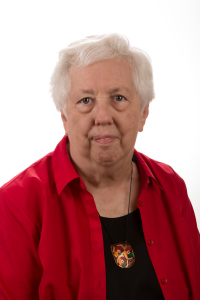 Joyce D. Sohl has been Laywoman-in-Residence since 2009 as a full-time volunteer. She retired as CEO of United Methodist Women in 2004. She is the author of 4 books, a teacher, retreat leader, writer and non-professional musician. Here at the Center her work is in the area of Spirituality & the Arts with such programs as Tuesdays in the Chapel, Vespers & All That Jazz, Poet's Corner, and quarterly retreats and art exhibits.