Summer is for Reading
Summer is a great time to join a Book Club – to begin a new adventure with women committed to exploring the world of books. Reading books that focus on a broad range of women's experiences, the book club at Scarritt Bennett Center is an inter-generational dialogue among women that seeks to draw connections and expand perspectives on the issues raised in a variety of books.
The club meets on the 2nd Monday of each month from 7 pm-8:15 pm in Fondren Hall. It is free and open to all women.
On June 13 the book is The Complete Persepolis by Marjane Satrapi. This is the story of the author's unforgettable childhood and coming of age within a large and loving family in Tehran during the Islamic Revolution; of the contradictions between private and public life in a country plagued by political upheaval; of her high school years in Vienna far from her family; of her homecoming, and finally of her self-imposed exile from her homeland. Its format is in comic strips.
On July 11, Kristin Hannah's book The Nightingale will be featured. This is a novel featuring two sisters during WW II in France. One sister stays in the country with her daughter with Germans occupying their house and choices having to be made all the time for survival. The other sister becomes a part of the Resistance and daily risks her life to save others. This is a story of "the woman's war" that celebrates the resilience of the human spirit and the durability of women.
The book on August 8 is The Girl Who Fell from the Sky by Heidi Durrow. It is the story of Rachel, who survived a fall for the ninth floor of her apartment building. She is biracial and tries to discover her identity, as a good student and a beautiful young woman. The story is told from a multiple of perspectives, moving between the present and different moments in the past.
Come for one or all of these club events. Expand your world and understanding; meet new people with different perspectives; and connect your own story to the stories of others in or outside the books.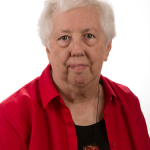 Joyce D. Sohl has been Laywoman-in-Residence since 2009 as a full-time volunteer. She retired as CEO of United Methodist Women in 2004. She is the author of 4 books, a teacher, retreat leader, writer and non-professional musician. Here at the Center her work is in the area of Spirituality & the Arts with such programs as Tuesdays in the Chapel, Vespers & All That Jazz, Poet's Corner, and quarterly retreats and art exhibits.