St. Francis of Assisi
St. Francis of Assisi (Giovanni di Pietro di Bernardone) was born in 1181/1182 , one of seven children of a prosperous silk merchant and his wife living in Assisi, Italy. He grew up in wealth, lived the life of a wealthy young man, and served as a soldier in Assisi's army. In 1204 he had a serious illness that led him to several important spiritual awakenings. He renounced his wealth and lived in poverty; he took up preaching on the streets; he nursed lepers; and worked for a time as a restorer of chapels around Assisi. It was in 1210 that he received the papal approval to establish the Franciscan Order whose simple rule of life was "to follow the teachings of our Lord Jesus Christ and to walk in his footsteps."
St. Francis is perhaps best known for his belief that the world was created good and beautiful by God and that all people have a responsibility to care for it. He wrote Canticle of the Sun as a prayer of praise to the Creator God
Praise our brother the sun, which brings us the day and the light; reveals the beauty of its maker – fair is He, shining with a very great splendor that signifies God to us!
Praised be my Lord for our sister the moon, and for the stars, which God has set clear and lovely in heaven.
Praised be my Lord for our brother the wind, and for air and cloud, calms and all weather, by which you uphold in life all creatures.
Praised be my Lord for our sister water, which is very precious and serviceable to us.
Praised be my Lord for brother fire, through which you give us light in the darkness;; he is bright, pleasant, very mighty, and strong.
Praised be my Lord for our mother the Earth, which sustains us and keeps us, and yields diverse fruits, and flowers of many colors, and grass.
Praised be my Lord for our sister, the death of the body, from which no one escapes; woe to him who died in mortal sin! Blessed are they who are found walking by your most holy will, for the second death shall have no power to do them harm.
The Feast Day of St. Francis is October 4. We have several ways you might choose to observe this day and honor creation and the Creator. The first is a Blessing of the Animals that will take place at The Upper Room at 19th & Grand from 4-6pm on that day. This is a come and go event and all are welcome.
The second is a walk in the International Garden here on the campus (near the corner of 19th & Grand) where we have set up a Franciscan Canticle Trail around the garden. Posters are placed around the garden highlighting each segment of The Canticle of the Sun. Come and enjoy this walk and also walk the labyrinth in praise of our Lord.
Joyce D. Sohl, Laywoman-in-Residence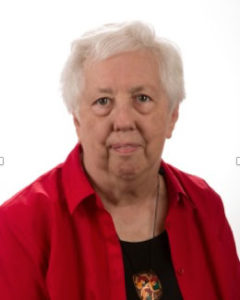 Joyce D. Sohl has been Laywoman-in-Residence since 2009 as a full-time volunteer. She retired as CEO of United Methodist Women in 2004. She is the author of 4 books, a teacher, retreat leader, writer and non-professional musician. Here at the Center her work is in the area of Spirituality & the Arts with such programs as Tuesdays in the Chapel, Vespers & All That Jazz, Poet's Corner, quarterly retreats, and art exhibits.