Repairing Broken Children
"It is easier to build strong children than to repair broken men."
Frederick Douglass
Repairing Broken Children
(Reflections on the US Border Crisis)
S T Kimbrough, Jr
Republicans, you need to hear
a voice from your own past:
a slave transformed into a seer,
with wisdom to hold fast.
It's better to build children strong,
with boldness Douglass claims,
than to repair all of your wrong
and all their broken aims.
A broken child will soon become
a woman or a man.
Their lives will surely be the sum
of your immoral plan?
Have you no moral fiber left
to help them with their needs?
Are you of decency bereft,
while cruelty proceeds?
An infant child, a refugee,
deserves a chance at life!
Take up responsibility!
It pleads, "Please end the strife!"
S T Kimbrough, Jr., © June 26, 2018. Stk812@aol.com. All rights reserved. Used by
permission.
Joyce D. Sohl, Laywoman-in-Residence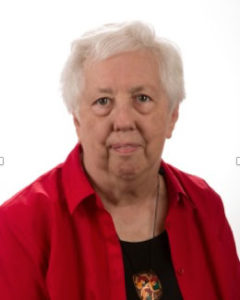 Joyce D. Sohl has been Laywoman-in-Residence since 2009 as a full-time volunteer. She retired as CEO of United Methodist Women in 2004. She is the author of 4 books, a teacher, retreat leader, writer and non-professional musician. Here at the Center her work is in the area of Spirituality & the Arts with such programs as Tuesdays in the Chapel, Vespers & All That Jazz, Poet's Corner, quarterly retreats, and art exhibits.