Most of Us Are Immigrants or Descendants of Immigrants
My father's family were immigrants from norther Germany in 1884. His father, at the age of 16, came with my great-grandfather in March of that year, and my great-grandmother came with the other 10 children, ages 18 years to 10 months in October. They came by ship and were processed into the United States through Ellis Island. They settled near Brodhead, Wisconsin among many other German-speaking people. My grandfather married another immigrant's daughter, and eventually moved to Nebraska and became a pastor in the Evangelical Church.
Why did they come to the United States? The answer is the same as one hears today – for a better life for themselves and their children. Did they cease speaking German? No. Did they learn English? Yes and no. My grandfather preached in both German and English, but it is doubtful his parents could do more than minimum conversation in English. Even in 1920 when my grandfather died, two sermons were preached at his funeral, one in English and one in German.
At the end of the 19th century and the beginning of the 20dth, immigrants came in waves to this country. Contrary to folklore, many of these people received public assistance. For instance, in 1909, one-half of public welfare recipients nationwide were immigrant families. Schools were overflowing with immigrant children in the nation's largest cities. In New York City, three quarters of students were immigrant children. Life was difficult for the immigrants. Many were without jobs. Some came to escape joblessness and famine in their home countries and intended to go home when times were better. Some did return home, but others got caught here during
WW I and eventually became citizens.
Many of the complaints against immigrants heard today are the same as those heard in the 19th and 20th centuries. Laws passed restricting certain groups of immigrants – the Chinese Exclusion Act of 1882 and creation of the Asiatic Barred Zone, which excluded all Asian and Pacific Islanders in 1917. Also passed in 1917 was the Immigration Act, which required immigrants to read at least 30 words in their native languages. In 1921 a national quota system was introduced. It was later reformed to give preference to families of citizens and in 1965 the national quotas were replaced with quotas for the Western Hemisphere and then in 1978 replaced again with world-wide limits. The Supreme Court in 1982 ruled all children, regardless of immigration status, have the right to attend public schools free of charge. In 1986 undocumented workers who met certain residency requirements became eligible for permanent resident status, but employers were prohibited from hiring undocumented "aliens."
And now we have a Zero Tolerance policy enacted by our government that has led to round-ups of the undocumented for deportation; children being forcibly separated from their families while parents are detained or deported; the so-called Dreamers living in a constant state of uncertainty and anxiety. Even though family separation has ended with an executive order, as of this week there are still 700 children that have not been reunited with their parents, some of whom have been already deported.
Solutions are complex. The issues around immigration involve race, economics, gender and politics. Here are questions we still need to raise in today's debates:
1. Are immigration patterns determined by race?
2. Will we only accept skilled workers and not unskilled laborers and domestic workers?
3. By cutting welfare services available to immigrants will we impede their process in becoming part of our society?
4. As a descendant of immigrants, how are each of us going to deal with this issue?
Jesus invited all to his table. He encouraged us to love one another. As stated in Hebrews 13:1-2: "Let mutual love continue. Do not neglect to show hospitality to strangers, for by doing that some have entertained angels without knowing it." Angels are in our midst. They are on our borders. Will we accept and love them?
Joyce D. Sohl, Laywoman-in-Residence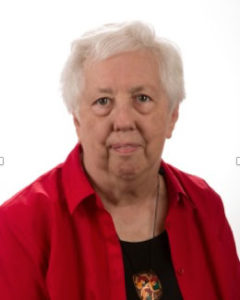 Joyce D. Sohl has been Laywoman-in-Residence since 2009 as a full-time volunteer. She retired as CEO of United Methodist Women in 2004. She is the author of 4 books, a teacher, retreat leader, writer and non-professional musician. Here at the Center her work is in the area of Spirituality & the Arts with such programs as Tuesdays in the Chapel, Vespers & All That Jazz, Poet's Corner, quarterly retreats, and art exhibits.