Lent, a Season of Renewal
Lent is a holy season of the church year, beginning with Ash Wednesday (March 1) and ending on Easter (April 16). It began in the early church as a time for preparing new converts for baptism on Easter. Today it is seen as a time for all Christians to prepare for Easter through prayer, reflection, silence, repentance, reading, and growing in the grace of God.
The word "Lent" comes from the Anglo-Saxon word that means "spring" or "springtime." Literally the word signifies the time of year when the days lengthen.  Many see these forty days as a time to refresh and renew their relationship with God and each other.  It is a time to bring "springtime" into the soul burdened by economic crisis, conflicting human relations, fear of the future, and the lack of world peace.
Here are Scarritt-Bennett Center we observe Lent with a variety of offerings for spiritual renewal. Listed below are such opportunities.  We invite you to join us as each of us prepare once again for the resurrection on Easter Sunday.
        Tuesdays in the Chapel           Wightman Chapel       l2:30-1:05 pm
March 7           Sherry Cothran            St. John's West United Methodist Church
March 14         Jennifer Bailey            Faith Matters
March 21         Brian Marcoulier         Bellevue United Methodist Church
March 28         David Hollis                Belmont University, Wesley Fellowship
April 4             Marilyn Thornton        United Methodist Publishing House
April 11           Holy Week                  Passion Story in scripture and music
Vespers & All That Jazz         Wightman Chapel, Sundays at 6:30-7:15 pm
March 5           Temptation vs Freedom
March 12         God of the Journey
March 19         Thirst
March 26         Seeing Through God's Eyes
April 2             Dry Bones
April 9             The Story of Two Donkeys  (Palm Sunday)
April 16           The Risen Christ   (Easter Sunday)
      Retreat
March 27 (dinner) – March 30 (lunch) "Listen: Silence Speaks"
A Lenten residential silent retreat
Register at http://bit.ly/silencespeaks
May your Lenten journey be full of courage, hope, and the sense of God's continued presence. May your soul be renewed and may you be prepared to celebrate once again the resurrection on Easter morn.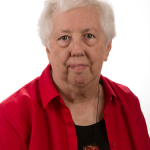 Joyce D. Sohl has been Laywoman-in-Residence since 2009 as a full-time volunteer. She retired as CEO of United Methodist Women in 2004. She is the author of 4 books, a teacher, retreat leader, writer and non-professional musician. Here at the Center her work is in the area of Spirituality & the Arts with such programs as Tuesdays in the Chapel, Vespers & All That Jazz, Poet's Corner, and quarterly retreats and art exhibits.