Join Us For Worship
Here at Scarritt Bennett Center we have two worship services each week. Tuesdays in the Chapel, a service of preaching, scripture, prayer and music is held every Tuesday at 12:30-1:00 in Wightman Chapel. Vespers & All That Jazz is held each Sunday evening from 6:30-7:15. This is a contemplative service with poetry, contemporary readings, scripture, prayer and all the music in the jazz format. See all summer events.
Our summer schedule for the Tuesdays service is:
June 19 – Brian Marcoulier Bellevue United Methodist Church
June 26 – A Jazz Service
July 3 – "Bold Women" led by Doris Stewart, Jan Lowe and Joyce Sohl
July 10 – Amy Harkness Presbyterian Pastor
July 17 – Kay Gray United Methodist retired clergy
July 24 – Cynthia Wilson United Methodist Board of Discipleship
July 31 – Debra Tyree Bellevue United Methodist Church
August 7 – Paula Smith Liberty United Methodist Church, Franklin
August 14 – Stacey Croft Christ Presbyterian Church
August 21 – Kennard Murray Red River District, United Methodist Church
August 28 – Scott Aleridge Cumberland River District, United Methodist
This service is open to the public and is a good way to take a "Sabbath break" during the week.
Vespers & All That Jazz is also a service open to the public and provides a non-traditional worship experience centered in music as an expression of God's innovation, love and mercy. The following is the topics and scriptures through August:
June 17 – The Prophet Micah Micah 3:1-5; 4:1-5
June 24 -Ezekiel, Seer of the Unseen Ezekiel 37:1-14
July 1 – Jesus as Prophet Selected passages from Mark and Luke
July 8 – God, the Creator Genesis 1
July 15 – God, Great Companion and Guide Psalm 116:1-6
July 22 – God is Faithful Lamentations 3:22-24
July 29 – God, Merciful Forgiver Psalm 86:1-7
August 5 – God, Giver of the Word Psalm 19:6, 10-14
August 12 – A God Worthy of Praise Psalm 147:1-11, 20b
August 19 – God as Healer Psalm 107:17-22
August 26 – God of Judgement and Justice Matthew 13:24-30
Note that most of the summer topics are centered on attributes of God.
Come and join us in worship.
Joyce D. Sohl, Laywoman-in-Residence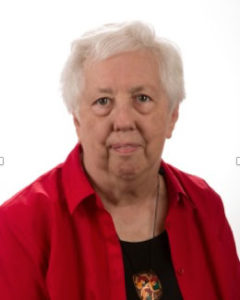 Joyce D. Sohl has been Laywoman-in-Residence since 2009 as a full-time volunteer. She retired as CEO of United Methodist Women in 2004. She is the author of 4 books, a teacher, retreat leader, writer and non-professional musician. Here at the Center her work is in the area of Spirituality & the Arts with such programs as Tuesdays in the Chapel, Vespers & All That Jazz, Poet's Corner, quarterly retreats, and art exhibits.