In the Wilderness
Then Jesus was led up by the Spirit into the wilderness to be tempted by the devil. He fasted forty days and forty nights, and afterwards he was famished. The tempter came and said to him, "If you are the Son of God, command these stones to become loaves of bread….throw yourself down (from the pinnacle of the temple)….fall down and worship me." But Jesus answered, "It is written, 'One does not live by bread alone'….'Do not put the Lord your God to the test'….'Worship the Lord your God, and serve only him'" Then the devil left him, and suddenly angels came and waited on him. Excerpts from Matthew 4:1-11
The Spirit led Jesus into the Wilderness in order to give him the space for prayer, fasting, and discovering what God had in mind for his life. Here he was following in the footsteps of his Jewish ancestors, seeking a spiritual experience of God that would undergird his future ministry. But in the wilderness Jesus also met the devil with gifts of food, security and power ready for the taking.
By themselves, these gifts were good, but the strings that were attached to them would have changed the direction of Jesus' life. Jesus chose not to accept the devil's offerings and instead continued to honor his baptism as "the beloved Son of God."
Sometimes our temptations are likewise about the good versus the better; at other times we are tempted by the easy instead of the more difficult; and at still other times we have to choose the lesser of two evils. Choices made with prayer hopefully will lead us in God's direction. We are not guaranteed to always make the right choices, but we are guaranteed of God's continued presence in a time of correction or adjustment.
Herman G. Stuempfle, Jr wrote:
"When we face temptation's power,
lonely, struggling, filled with dread,
Christ, who knew the tempter's hour,
come and be our living bread."
My prayer for all of us during this Lent: Dear God, help me be prepared to deal with the tests that come my way. Guide me as I look for assistance and counsel. Thank you, God for always being with me. Amen.
Joyce D. Sohl, Laywoman-in-Residence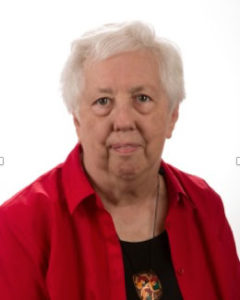 Joyce D. Sohl has been Laywoman-in-Residence since 2009 as a full-time volunteer. She retired as CEO of United Methodist Women in 2004. She is the author of 4 books, a teacher, retreat leader, writer and non-professional musician. Here at the Center her work is in the area of Spirituality & the Arts with such programs as Tuesdays in the Chapel, Vespers & All That Jazz, Poet's Corner, quarterly retreats, and art exhibits.