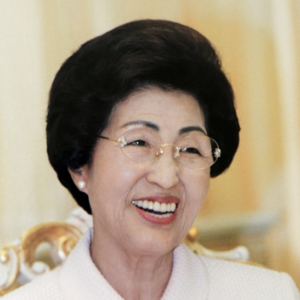 In Memory of Lee Hee-Ho
On Monday, June 19, 2019 Lee Hee-ho, the former first lady of South Korea died. From 1956-58, Lee Hee-ho was a student at Scarritt College and graduated with a Masters degree in sociology in 1958. Previously she had attended Ewha Woman's College (now Ewha University) in Seoul; Seoul National University; and Lambuth College in Jackson, TN.
She was a strong advocate for women throughout her life. She helped to organize and later was secretary general (1959-62) of the South Korean Young Women's Christian Association. She was a supporter of her husband's (Kim Dae-jung) political career but never accepted a post in the government during his time in various offices including that of president. But it is thought by many that she influenced the strengthening of the role of women in public life during his time in office.
In Lee Hee-ho's application to Scarritt College in 1956 she writes: "When the Korean War broke out some friends and I organized the Korean Woman's Youth Association to help in the tremendous task of rehabilitating the homeless and stricken refugees. In addition I joined the Student Christian Federation of Korea and devoted myself to the task of developing a Christian movement which was vitally needed for our hopeless and desperate people." She goes on to tell of the establishment of the Women's Problems Research Association with the purpose of analyzing women's problems and to publish books and periodicals to enlighten them.
In 1998 Lee Hee-ho came to Scarritt Bennett Center and was welcomed by the then Executive Director, Carolyn Oehler and alumni in the area. She was given a Certificate of Appreciation with gratitude for her service to the women of Korea. In 1956 she wrote: "As an educated woman, I hold it my own responsibility to lift and improve the situation of Korean women." This Lee Hee-ho did throughout her 96 years.
We once again honor you and thank God for your witness in Korea and the world.
Joyce D. Sohl, Laywoman-in-Residence
Joyce D. Sohl has been Laywoman-in-Residence since 2009 as a full-time volunteer. She retired as CEO of United Methodist Women in 2004. She is the author of 4 books, a teacher, retreat leader, writer and non-professional musician. Here at the Center her work is in the area of Spirituality & the Arts with such programs as Tuesdays in the Chapel, Vespers & All That Jazz, Poet's Corner, quarterly retreats, and art exhibits.