Grow in Your Spiritual Life
Between now and the end of the year, Scarritt Bennett Center is offering many opportunities for spiritual growth through worship, art, music, retreats, poetry and solitude.
Worship. Two services of worship are held in Wightman Chapel each week. One is on Tuesdays at 12:30-1:05. This is a service of prayer, preaching, scripture and music. It allows each participant to have some time in quiet reflection and prayer as well as hear powerful preaching from a variety of clergy and lay people. Tuesdays in the Chapel will be held through the last Tuesday in November and then resume on January 3.
The second worship service is Vespers & All That Jazz held each Sunday evening from 6:30-7:15. This is a contemplative service of contemporary readings, scripture, prayer and poetry. All music, which is usually six numbers is in the jazz format. The music comes from many sources including hymns, classical music, jazz numbers, world music, pop, etc. This is a unique and very meaningful worship experience.
Art.  Art viewing and meditation can be an important discipline of one's spiritual life. What is the art saying to you? What feelings or memories does it evoke? Is God speaking to you through the art? Through now and the end of September our art exhibit in the Laskey Gallery is "Complementary Colors" featuring five local arts with paintings of animals, landscape, flowers, etc.
The exhibit to be installed the first week of October and continue through the end of the year is by Ashley Mintz around the theme "Being Black: Then and Now. Is there really a difference?" The artist reception will be October 7, 4:30-6:30. Ashley will raise some hard issues for all of us in this exhibit.
Music.  Believe it or not, our Christmas concerts are on the calendar. All concerts are ½ hour in length from 1:00-1:30 in Wightman Chapel. The dates and musicians are:
December 8                 Nashville in Harmony
December 12               Margaret (Maggie) Becker, vocalist
December 13               Emmanuel LeGrair, vocalist
December 14               Kelli Cox, jazz piano
December 15               'Tis the Season, a group presentation
December 16               Polly Brecht, organ
Retreats "Wild with Words," September 16, 9:00-3:30 will focus on writing as a spiritual practice. Dr. Martha Brunell will facilitate this retreat and lead us into familiar and unexpected expressions of who we are within ourselves, with one another, and in the wider world as we let our pens/pencils "do the walking."
On November 19, 9:00-3:30, Rabbi Rami Shapiro will lead a retreat, "The Sacred Art of Lovingkindness." Tools will be provided to help you realize the divinity within yourself, recognize the divinity with others and act on the obligation to manifest God's infinite compassion in your own life. Teachings from various faith traditions will be used.
Poet's Corner. On the 4th Thursday of August-October and on the 3rd Thursday of November and December a poetry reading featured a local/regional poet is held at 7:00-8:00 pm. Poetry has a way of expressing life in a difference cadence and using different words, thus sending the mind on a search for meaning and understanding. Poets have a way of looking at the world through different lenses and thus can aid the listener on their own journey.
Solitude. The campus is always available for walking. The labyrinth is near the corner of 19th and Grand and provides a wonderful way to experience the divine in solitude in the midst of the busy city. Come and find God in nature and a quiet space.
All of the above opportunities are free except for the two retreats.  More information is available on our website regarding each program.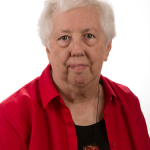 Joyce D. Sohl has been Laywoman-in-Residence since 2009 as a full-time volunteer. She retired as CEO of United Methodist Women in 2004. She is the author of 4 books, a teacher, retreat leader, writer and non-professional musician. Here at the Center her work is in the area of Spirituality & the Arts with such programs as Tuesdays in the Chapel, Vespers & All That Jazz, Poet's Corner, and quarterly retreats and art exhibits.