God is a Constant Companion
"The Lord is my constant companion. There is no need that He cannot fulfill.
Whether His course for me points to the mountaintops of glorious ecstasy or to the valleys of human suffering, He is by my side, He is ever present with me.
He is closer beside me when I tread the dark streets of danger, and even when I flirt with death itself, He will not leave me.
When the pain is severe, He is near to comfort.
When the burden is heave, He is there to lean upon.
When depression darkens by soul, He touches me with eternal joy.
When I feel empty and alone, He fills the aching vacuum with His power.
My security is in His promise to be near to me always, and in the knowledge that He will never let me go." Paraphrase of Psalm 23 by Leslie F. Brandt in Psalms Now
Trouble abounds in the world around us. There is unemployment and underemployed; many are living on a "shoe string;" questions persist over health care and taxes; wars appear to be endless; violence is in our communities, schools and for some, even within their homes; poverty is wearing people down; and the economic news worries the pensioner as well as the banker. God did not promise us God's continued presence, comfort, and guidance.
It is time to reclaim the promises of God! Even when we are crying out to God in anger, fear, frustration, and dismay we must again and again recite: "God is with me;" "I am God's beloved child;" "Do not fear, I am with you." God is faithful. God keeps promises.
Teresa of Avila wrote in the 16th century:
"Nothing can trouble, nothing can frighten.
Those who seek God shall never go wanting.
Nothing can trouble, nothing can frighten.
God alone fills us."
And more recently Thomas O. Chisholm wrote in 1923:
"Great is thy faithfulness! Great is thy faithfulness!
Morning by morning new mercies I see;
all I have needed thy hand hath provided;
great is thy faithfulness, Lord, unto me!
For reflection: What are my fears and frustrations? How can I deal creatively with them? When and how has God helped me in the past? What can I do to feel God's presence with me in the midst of my trouble?
Let us pray together: Dear God, I pray not for an easy life, but I pray for your guidance and presence as I try to deal with everything that is going on today. Help me to be more receptive to your Spirit during this Lenten season. Amen.
Joyce D. Sohl, Laywoman-in-Residence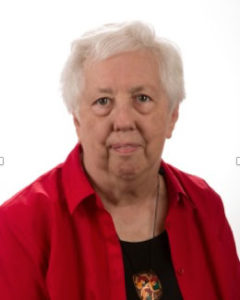 Joyce D. Sohl has been Laywoman-in-Residence since 2009 as a full-time volunteer. She retired as CEO of United Methodist Women in 2004. She is the author of 4 books, a teacher, retreat leader, writer and non-professional musician. Here at the Center her work is in the area of Spirituality & the Arts with such programs as Tuesdays in the Chapel, Vespers & All That Jazz, Poet's Corner, quarterly retreats, and art exhibits.