God Comes to Be with Us
God comes to be with us in messages of angels:
to Mary a message of holiness,
to Joseph a message of calm,
to the shepherds a message of joy,
to the wise ones a message of courage
to Joseph a message to flee.
God comes to be with us in messages from angels:
a friend whose message is concern,
a child whose message is wonder
a stranger whose message is love
a colleague whose message is caution,
a spiritual counselor whose message is move on.
God comes to be with us in Mary, the young maiden:
who courageously said, "Here I am,"
whose spirit rejoiced in God,
who proclaimed God's mercy and justice;
who raised her son with faith in the faith,
whose heart became heavy with grief.
God comes to be with us through young people:
who follow God's call to service,
whose spirits are renewed in God's love,
who work diligently for the oppressed,
who raise their children in love in the midst of hate,
whose hearts go out to their sisters and brothers in solidarity.
God comes to be with us in Anna, the prophet:
a widow of many years,
a woman who worshipped God daily,
a woman who did not let her age destroy her hope,
a woman who recognized the Christ,
a woman who proclaimed the redemption of Jerusalem.
God comes to be with us through the wise elders:
whose lives have been difficult,
who worship, pray and live their faith,
who found wisdom through their living
who see Christ in the other,
who, in word and deed, proclaim God's message.
God comes to be with us
through God's creation waiting for redemption,
through God's Son bringing hope, love and peace,
through God's Spirit ever present
through angels and saints,
through children, youth and elders,
through friends and strangers.
God comes to be with us! Welcome to God in our midst!
Joyce D. Sohl, Laywoman-in-Residence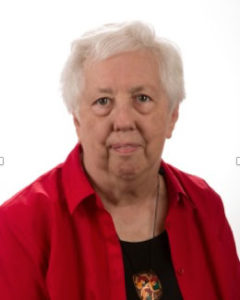 Joyce D. Sohl has been Laywoman-in-Residence since 2009 as a full-time volunteer. She retired as CEO of United Methodist Women in 2004. She is the author of 4 books, a teacher, retreat leader, writer and non-professional musician. Here at the Center her work is in the area of Spirituality & the Arts with such programs as Tuesdays in the Chapel, Vespers & All That Jazz, Poet's Corner, quarterly retreats, and art exhibits.