Fall Spiritual Events
Even at the start of summer, my thoughts begin to turn to the fall. Perhaps it's because I don't deal well with heat and humidity or perhaps it's because the opportunities for spiritual retreats seem to increase as the seasons change. Or maybe it is simply because I am in the midst of planning the fall retreats here at Scarritt Bennett Center.
A spiritual retreat can be several weeks in length to a few hours in the midst of a day. It is a time for renewal, reflection, discernment, and growth in the faith. Ben Campbell Johnson and Paul H. Lang write: "Retreat is a temporary disengagement from your daily routine to place yourself before God so that you can reengage your life and work with greater insight, energy, and purpose." We have several wonderful retreat possibilities available this fall.\
"From the Inside Out: Internal Authority in Our Lives" will be held September 12(dinner) – September 15 (lunch). Facilitated by Dr. Martha Brunell, the retreat aims to help participants build an inner foundation for their soul. Through using questions, stories, the labyrinth, and varied spiritual practices all will listen for what animates and authorizes each participant to come alive spiritually "from the inside out."
Writing as a spiritual practice will be the focus of "Wild with Words" on September 16 from 9:00-3:30. This one day retreat will lead us into familiar and unexpected expressions of who we are within ourselves, with one another, and in the wider world as we let our pens/pencils "do the walking." Dr. Martha Brunell will also facilitate this retreat. She is a spiritual director and a pastor of the United Church of Christ.
On November 19 from 9:00 – 3:30, Rabbi Rami Shapiro will lead a retreat, "The Sacred Art of Lovingkindness." Tools will be provided to help you realize the divinity within yourself, recognize the divinity with others, and act on the obligation to manifest God's infinite compassion in your own life.  Teachings from various faith traditions will be used. Choosing to act out of love rather than fear, with kindness rather than anger, you can be transformed and lead a more complete spiritual life.
From the Inside Out – To register or learn more click here.
The Sacred Art of Lovingkindness – To register or learn more click here.
Wild with Words – To register or learn more click here.
Please register as early as possible in that such helps with our planning and implementation of the event. I sincerely hope you will join us in one of these retreat opportunities.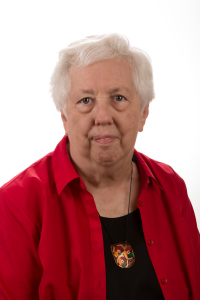 Joyce D. Sohl has been Laywoman-in-Residence since 2009 as a full-time volunteer. She retired as CEO of United Methodist Women in 2004. She is the author of 4 books, a teacher, retreat leader, writer and non-professional musician. Here at the Center her work is in the area of Spirituality & the Arts with such programs as Tuesdays in the Chapel, Vespers & All That Jazz, Poet's Corner, and quarterly retreats and art exhibits.