Come, Worship the God of Love and Justice
Scarritt Bennett Center is once again offering opportunities for corporate worship in Wightman Chapel each week. Starting on Tuesday, September 5 at 12:30-1:05, Tuesdays in the Chapel resumes. The opening worship will be a jazz service with the theme "God, We Need You."  In that service we will look at our country and world as we seek God's help as we experience hate, violence and fear. In other services this fall our speakers will be:
September 12  Lisa Gwock                             November 7    Rachel Pence
September 19  Donna Paterson                    November 14  Kay Gray
September 26  John Hill                                November 21  Thanksgiving service
October 3        Sally Holt                                November 28  Garlinda Burton
October 10      Doug Ruffle                            December 5     Roderick Belin
October 17      Heather Lear
October 24      John Feldhacker
October 31      Marty Bell
On Sundays at 6:30-7:15 in Wightman Chapel "Vespers & All That Jazz" is held. This fall our themes until the beginning of Advent are:
September 3                Labor Day in the Vineyard
September 10              Love Fulfills the Law
September 17              Welcome Table
September 24              Revenge Belongs to God
October 1                    Streams of Water
October 8                    Planted in God's Garden
October 15                  God's Kingdom: A Banquet
October 22                  God is Our Rock
October 29                  The Desert/ The Wilderness
November 5                Happiness
November 12              Prepare for Delay
November 19              Thanksgiving
Each of these services features scripture, prayer, poetry, contemporary readings and six jazz numbers from different sources
A unique interfaith service will be held in Wightman Chapel, Monday September 18, 6:30-7:30 with a reception to follow. This service is in support of International Day of Peace and centers on the theme "May Peace Prevail on Earth." Representatives of different faiths will share readings/prayers from their sacred texts or music that speaks to peace in our communities and the world.
Come and join in these worship experiences with your neighbors and friends.
Joyce D. Sohl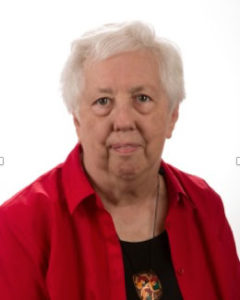 Joyce D. Sohl has been Laywoman-in-Residence since 2009 as a full-time volunteer. She retired as CEO of United Methodist Women in 2004. She is the author of 4 books, a teacher, retreat leader, writer and non-professional musician. Here at the Center her work is in the area of Spirituality & the Arts with such programs as Tuesdays in the Chapel, Vespers & All That Jazz, Poet's Corner, quarterly retreats, and art exhibits.