Christ Is Risen Indeed
But on the first day of the week, at early dawn they came to the tomb, taking the spices that they had prepared. They found the stone rolled away from the tomb, but when they went in they did not find the body. While they were perplexed about this, suddenly two men in dazzling clothes stood beside them. The women were terrified and bowed their faces to the ground, but the men said to them, "Why do you look for the living among the dead? He is not here, but has risen. Remember how he told you, while he was still in Galilee, that the Son of Man must be handed over to sinners, and be crucified, and on the third day rise again." Then they remembered his words, and returning from they tomb, they told all this to the eleven and to all the rest. Now it was Mary Magdalene, Joanna, Mary the mother of James, and the other women with them who told this to the apostles. Luke 24:1-10
These women had been with Jesus throughout his ministry. They often supplied food and shelter for Jesus and his disciples and even at times, money for their expenses. They wanted Jesus to have a decent burial, so they prepared the spices and went to the tomb. They were hurting and grieving and probably had been trying to console each other during the Sabbath. At the tomb they were faced with two men, no body of Jesus, and a story of a resurrection. But they believed and went and told the others and in their sharing the news became the first to witness to the resurrection.
From this moment on everything was different for the women, the other disciples and for the Christian community. They could not explain the resurrection, but they did believe that Jesus was in their midst and in their lives. Something new and important had happened. Death was no longer to be feared. Love had triumphed over the powers of the world.
Charles Wesley wrote this hymn "Hallelujah, Christ is risen" which tells the story of the women's experience:
More courageous than the men,
when Christ his breath resigned,
women first the grace obtain
their living Lord to find.
Joyful tidings of their Lord
these messengers proclaim
Jesus Christ to live restored,
and pardon through his name!
Women first the news proclaim,
know resurrection's power,
teach th'Apostles of the Lamb,
who live to die no more.
O might I like them no hear,
these witnesses receive;
empty find the sepulcher,
and wonder and believe!
Thank you God, for your Son and for the mystery of his resurrection. May my faith be strengthen and my witness be in my daily living. Amen
Joyce D. Sohl, Laywoman-in-Residence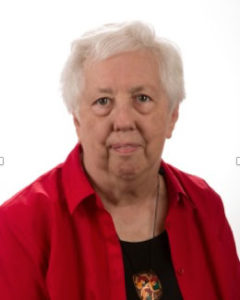 Joyce D. Sohl has been Laywoman-in-Residence since 2009 as a full-time volunteer. She retired as CEO of United Methodist Women in 2004. She is the author of 4 books, a teacher, retreat leader, writer and non-professional musician. Here at the Center her work is in the area of Spirituality & the Arts with such programs as Tuesdays in the Chapel, Vespers & All That Jazz, Poet's Corner, quarterly retreats, and art exhibits.