A Lenten Retreat: A Time of Renewal
Each of us need to find the time and space to retreat into our inner selves for renewal, restoration, rediscovery and reawakening. A retreat is a spiritual discipline that can help us center ourselves in the God that is within each of us.
Here at Scarritt Bennett Center we are having a Lenten Silent Retreat, March 27 (dinner) – March 30 (lunch). The theme is "Listen: Silence Speaks" and Melissa Tidwell will be the facilitator. A silent retreat in the midst of an urban setting is a unique and very meaningful experience. The silence and listening will be experienced through a variety of exercises and resources including labyrinth walking, contemplative music, art meditation, silent meditation, group presentations, and reading for discernment.
To retreat is to find an inner balance that allows an individual to return to the daily events with a refocused and refreshed outlook. Each participant in this retreat will be able to discover again what enables them to hear God in their head and heart. Is it writing, doodling, walking, reading, or just sitting in silence? Prayer will be an essential element.
There is no right retreat, but we all have the need to retreat regularly.  Phoebe H. Brown (1783-1861) was a poor woman with a husband who was an unskilled laborer and often out of work. She had several children and other relatives under her care. She took a daily retreat which she wrote about in a poem that appears in several of earlier hymnals of the Methodist Church.
"I love to steal awhile away
From every cumbering care,
and spend the hours of setting day
in humble, grateful prayer.
I love in solitude to shed
The penitential tear,
And all his promises to plead
Where none but God can hear.
I love to think on mercies past,
And future good implore,
And all my cares and sorrows cast
On him whom I adore.
I love by faith to take a view
of  brighter scenes in heaven;
The prospect doth my strength renew,
While here by tempests driven/
Thus, when life's toilsome day is o'er,
May its departing ray
Be calm at this impressive hour,
And lead to endless day."
Mrs. Brown speaks of her need each day to have space for prayer, for tears, for dreaming, for comfort, for a sense of calm in her faith. Some days she probably came with joy and at other times filled with sorrow and burdens.  No matter her condition, it appears she returned to her ordinary life refreshed and restored with a renewed faith.
To retreat is sometimes seen as going backwards, but retreat in the spiritual sense is a time to move ahead, to grow to develop a closer relationship with God. Please give prayerful consideration to join us for this Lenten retreat. Registration is at http://bit.lysilencespeaks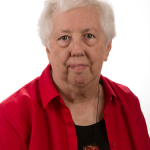 Joyce D. Sohl has been Laywoman-in-Residence since 2009 as a full-time volunteer. She retired as CEO of United Methodist Women in 2004. She is the author of 4 books, a teacher, retreat leader, writer and non-professional musician. Here at the Center her work is in the area of Spirituality & the Arts with such programs as Tuesdays in the Chapel, Vespers & All That Jazz, Poet's Corner, and quarterly retreats and art exhibits.