International Day of Peace
In support of the United Nations' International Day of Peace, an interfaith service of worship will be held in Harambee Auditorium, Fondren Hall at Scarritt Bennett Center on Monday, September 17 at 6:30-7:30 with a reception to follow. This is the third annual service sponsored by United Religions Initiative and Scarritt Bennett Center.
As members of difference religions, the service will focus on the teachings of each faith regarding the eight principles of the world-wide United Religions Initiative. The principles are:
1. We respect the uniqueness of each tradition, and differences of practice or belief.
2. We value voices that respect others, ad believe that sharing our values and wisdom can lead us to act for the good of all.
3. We believe that our religious, spiritual lives, rather than dividing us, guide us to build community and respect for one another.
4. Therefore, as interdependent people rooted in our traditions, we now unite for the benefit of our Earth community.
5. We unite to build cultures of peace and justice.
6. We unite to heal and protect the Earth.
7. We unite to build safe places for conflict resolution, healing and reconciliation.
8. We united to support freedom of religion and spiritual expression, and the rights of all individuals and peoples as set forth international law.
Reflections and teachings regarding the above will be interspersed with dances presented by the Epiphany Dance Company. Music will be provided by Massood Taj and Connye Florance and Kevin Madill.
The theme of this year's service is "Let Us Work Together for Peace." Committed to building bridges between peoples and transforming hate into hope and love, let us come together to pray and work for peace as members of the world's religions.
Joyce D. Sohl, Laywoman-in-Residence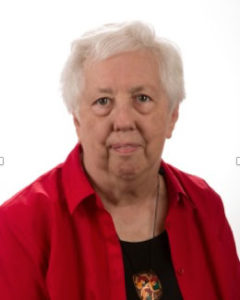 Joyce D. Sohl has been Laywoman-in-Residence since 2009 as a full-time volunteer. She retired as CEO of United Methodist Women in 2004. She is the author of 4 books, a teacher, retreat leader, writer and non-professional musician. Here at the Center her work is in the area of Spirituality & the Arts with such programs as Tuesdays in the Chapel, Vespers & All That Jazz, Poet's Corner, quarterly retreats, and art exhibits.